Children's Books About Elections, Politics, and Civic Engagement
Updated: Jan 14
Disclosure: this post contains affiliate links
Every four years the Presidential Election gets a lot of shine and rightfully so since it's an important election, but there are other, smaller, local elections that take place throughout the year as well. Those elections are equally as important. These elections are for staffing local school boards, mayors, governors, and other local and statewide positions. It's imperative that we pay attention to these elections as well.
Teaching children about the election process, our government, and politics in general prepares and motivates them to take an active role in making sure our country upholds the life, liberty, and pursuit of happiness that it promises everyone. We encourage you to read one or two or all these books and please exercise your right to vote.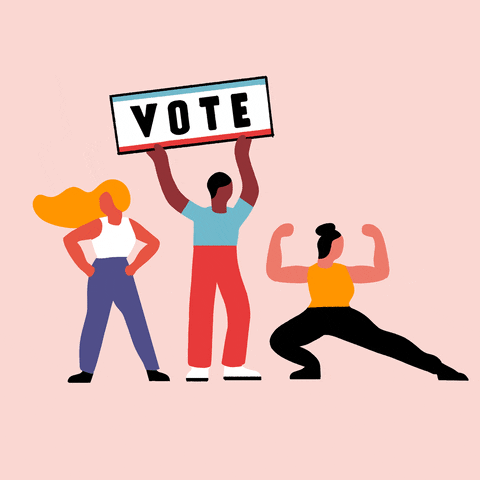 "A democracy cannot thrive where power remains unchecked, and justice is reserved for a select few. Ignoring these cries and failing to respond to this movement is simply not an option — for peace cannot exist where justice is not served." Congressman John Lewis
A fun, sturdy novelty board book with 13 sliding doors
Toddlers will love casting their vote as they slide-and-vote in everyday situations like striped or polka dot socks in the morning, vanilla or chocolate ice cream at snack time, and many more exciting choices every kid faces throughout the day.
This sturdy board book is a great way to encourage toddlers to always cast their votes, despite how ordinary or tiny the decision may seem.
Learn more: Bookshop or Amazon
V Is for Voting is an ABC book that introduces progressive families to concepts like social justice and civil rights and reminds readers that every vote counts!
A is for active participation.
B is for building a more equal nation.
C is for citizens' rights and our duty.
D is for difference, our strength and our beauty.
An engaging introduction to the tenets of democracy, V Is for Voting is a playful, poetic, and powerful primer about the importance of voting and activism. Featuring Kate Farrell's rhyming text and Caitlin Kuhwald's bold art, plus thoughtful back matter, the book is a gorgeous, and crucial, addition to every young reader's library. It makes the perfect gift for fans of A Is for Activist, Woke Baby, and Feminist Baby.
Learn more: Bookshop or Amazon
A right isn't right
till it's granted to all...
The founders of the United States declared that consent of the governed was a key part of their plan for the new nation. But for many years, only white men of means were allowed to vote. This unflinching and inspiring history of voting rights looks back at the activists who answered equality's call, working tirelessly to secure the right for all to vote, and it also looks forward to the future and the work that still needs to be done.
Learn more: Bookshop or Amazon
See the U.S. Constitution in a new light with this bold, modern and accessible illustrated guide to the document that helped define democracy.
Inquisitive minds will have their questions vividly answered - and new ones raised - by a mix of striking illustrations and clear, engaging text, including passages from the Constitution given in plain English.
As well as a detailed history covering the original Constitution, the Bill of Rights and all Amendments, discover how this milestone in American democracy shapes and is shaped by the world at large. We The People shows that, far from a fusty old piece of paper, the U.S. Constitution is a living, evolving rule book that is as relevant today as it has ever been.
Learn more: Bookshop or Amazon
Every two years, on the first Tuesday of November, Stanton Elementary School closes for the day.
For vacation? Nope! For repairs? No way! Stanton Elementary School closes so that it can transform itself into a polling station. People can come from all over to vote for the people who will make laws for the country. Sure, the Stanton Elementary School students might be too young to vote themselves, but that doesn't mean they can't encourage their parents, friends, and family to vote! After all, voting is how this country sees change--and by voting today, we can inspire tomorrow's voters to change the future.
Learn more: Bookshop or Amazon
Imagine starring in commercials and traveling in your own campaign bus or seeing your face on bumper stickers and T-shirts If you ran for president, you would get to do these and other fun things, but you would also have to do a lot of hard work. You would study the nation's problems, tell the American people about your platform, select a running mate, and debate your opponents on live television. Finally, in November, Election Day would arrive. You would keep your fingers crossed and wait for the results--will you be the next president of the United States?
A multicultural cast of children imagines what it would be like to run for president. The entertaining yet informative text is a good conversation starter for discussions on the election process. A note about this process accompanies the story.